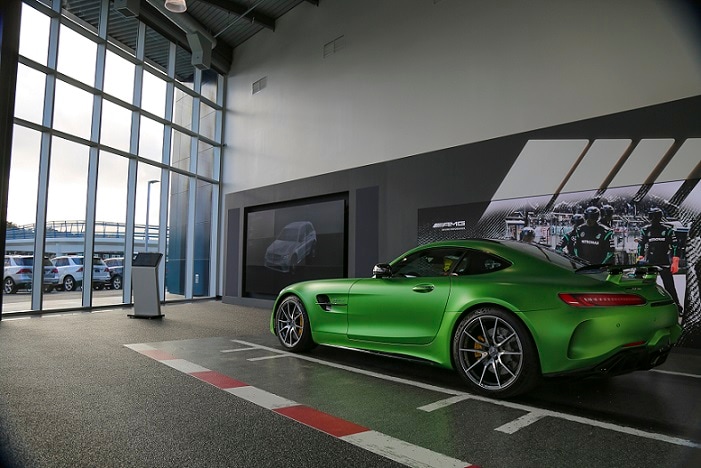 Visit Autobahn Motors for Mercedes-Benz Auto Parts & Accessories Near San Mateo

John Beck-Jensen is our Parts Department Manager--you can reach him directly at
(844) 896-1944
. John has a
huge inventory in stock
, and in many cases he can find rare parts for your Mercedes-Benz that other dealers may not have or cannot locate for you.
If you need a luxury certified Mercedes-Benz part or accessory,
John is your man!
When do I need new parts, and how do I get them?
If you need to replace your brake pads, rotors, headlights, muffler, filter or any other Mercedes-Benz car part, visit the Autobahn Motors auto parts and accessories center. John, or any member of our parts staff will help you locate the part you need. You can now order Mercedes-Benz car parts in Belmont online by completing Autobahn Motors online parts order form or the quick form just to your Right.

Learn more about purchasing auto components by visiting our parts FAQ page. If you have additional questions, please call our car parts center at (844) 896-1944.

Mercedes-Benz Parts require Mercedes-Benz Service:

Replacing a Mercedes-Benz car part requires specialists and certified technicians with Mercedes-Benz skill-sets and authorized tools. At our Mercedes-Benz dealership's high tech service center, our mechanics are ready to make those repairs for you, with friendly service, prompt responses, and a comfortable lounge for you to wait in--featuring Peet's Coffee!

Schedule your service appointment online to expedite installation of your new Mercedes-Benz parts.
What Happens After I Order a Part?
If you know the name or inventory number of your part, please use our online form to place an order. Otherwise, feel free to call (844) 896-1944 and a Parts Department specialist will determine exactly what you need. Upon submitting your information we will:
Respond to you promptly via your preferred contact method.
Ask any additional questions required to identify your parts request.
Confirm your order and pricing.
New/Replacement Key Services
Our scrutiny is your peace of mind.
Only you, or someone authorized by you, can order a replacement key from your local Mercedes-Benz dealer. In order to do so, your dealer will require proof of identity and vehicle ownership with original documents, as detailed below.
Process for ordering Mercedes-Benz or Sprinter replacement keys 
Items you will need to bring with you to the dealership

If you are the current owner of the vehicle:
The vehicle's current state registration, title or any ownership documentation 
Driver's license with photo or passport
If you are an authorized representative:
The vehicle's current registration, title or any ownership documentation 

Authorized representative's driver's license with photo or passport.

An original document authorizing the representative to act on behalf of the 

vehicle owner.

Original or photocopy of the vehicle owner's driver's license with photo or passport.
Activating your key
The dealership will need to test the remote and mechanical key function. To do
so, the dealer will need access to your vehicle - either at the dealership or at
the location of the vehicle. The repair process will be documented on a Repair
Order; this process may be subject to an additional service charge.
Parts Request
Hours
Monday

8:00 AM - 6:00 PM

Tuesday

8:00 AM - 6:00 PM

Wednesday

8:00 AM - 6:00 PM

Thursday

8:00 AM - 6:00 PM

Friday

8:00 AM - 6:00 PM

Saturday

8:00 AM - 6:00 PM

Sunday

Closed